What is a smart city? Defined as an urban center that has become more efficient, socially inclusive, and environmentally friendly through the use of technology, smart cities are essential to attracting residents and businesses, in turn boosting the economic growth of that city. Atlanta ranked as the #5 smartest city in the U.S. by ProptechOS, outperforming historically high-ranked smart cities such as New York City, Portland, Oregon, and Dallas, Texas.
In order to objectively rank cities, ProptechOS analyzed 11 metrics across 3 categories:
Category #1: Tech Infrastructure
Category #2: Green Infrastructure
Category #3: Tech-Drive Job Market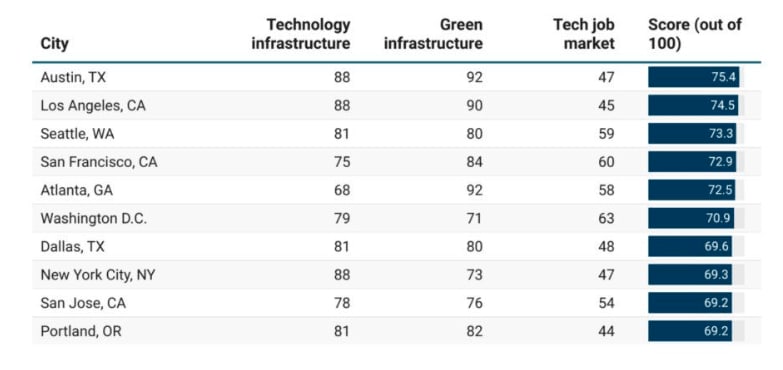 Metrics analyzed include number of free WiFi hotspots available throughout the city, broadband download speeds, access to airports, the amount of publicly-accessible electric vehicle (EV) charging stations, count of green certified buildings, and the number of tech jobs per 10,000 residents.
The study also revealed that on average, European cities tended to score lower on the scale, with London taking the #1 spot outside of the United States ranking especially high in the Green Infrastructure category. Atlanta, GA and Austin, TX tied for the #2 spot worldwide in this same category.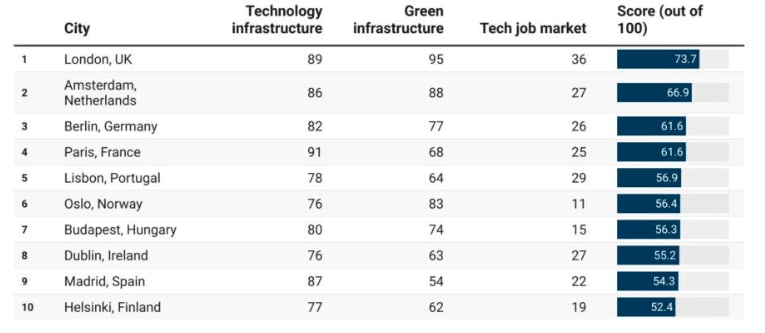 While the study highlights the progress and impact of tech driven urban centers, it also highlights that every city, even those ranked as the "smartest," have significant room for improvement. With ongoing commitments to tech-driven infrastructure and green development initiatives, cities like Atlanta will continue to be more environmentally sustainable and socially inclusive while simultaneously boosting the local economy.
Data by ProptechOS